Box Description: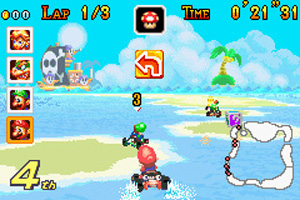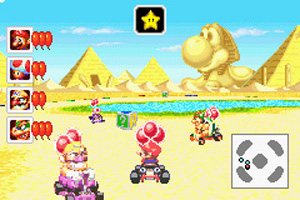 Get Supercharged!
All of your favorite kart-racing characters are back and ready to kick it into high gear! Now 20 brand-new tracks await on your Game Boy Advance, loaded with classic power-ups and primed for the free-for-all racing that only Mario Kart can deliver. Burn rubber in the Grand Prix, race your pals, race your own ghost, or shift gears for the mayhem of battle mode---the power's in the palm of your hand!
The gang's all here! Mario, Donkey Kong, Princess Peach, and five others are ready to roll, each with unique racing skills.
All-new tracks! Master each of the 20 courses to unlock hidden bonus tracks!
Power up! Weild all of the best items from Super Mario Kart and Mario Kart 64, including Bananas, Red Shells, and the fearsome Spiked Shell!
Furious multiplayer action! Link up with your friends using the Game Boy Advance Game Link cable for Single-Pak race mode! Multi-pak madness includes tons of races as well as the legendary battle mode! (Game Link cable sold seperately.)